The best way to protect your vehicle's value and ensure that it functions well for many years is to maintain it properly at regular intervals. Our Kenny Kent Chevrolet service team have answers to frequently asked automotive service questions.
Do I Have to Pay For a Recall?
If you're notified of a recall on your car then you can have peace of mind knowing that the manufacturer will likely cover the costs in most cases. The automaker will require that the vehicle is brought into the service center at one of their dealerships to ensure the repairs are performed properly and in a timely manner. If you fail to schedule the repairs within the allocated timeframe, then you may be responsible for covering the costs.
How Often does Chevy Recommend an Oil Change?
It is recommended that you get an oil change every 5,000 -15,000 miles (depending on the type of oil used) or 6 months. Checking the owner's manual will also offer insight into when the oil should be changed, which can vary depending on the make and model of the vehicle.
When Should I Replace my Tires?
If you want to stay safe on the road, it's important to replace the tires when they have less than 4/32" of remaining tread depth left. The tires typically need to be replaced every three to four years, depending on how much you drive. Using a penny, check your tread. If you can see Abraham Lincoln's head, the tread is too thin. Other signs include tears and worn spots on your tires.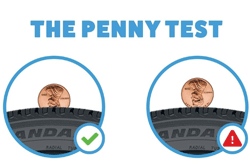 Can I Service a Vehicle with Kenny Kent Chevrolet Even if I Didn't Buy Here?
Our service center welcomes all vehicles for maintenance or repairs even if you didn't purchase the car at our dealership.
Do You Have Loaner Vehicles or a Shuttle?
This will be based on availability. Please contact us to confirm in advance.
What Services Does Your Maintenance Department Cover?
We're proud to offer a wide range of services to our customers to ensure your car receives a high level of care. The services we provide include wheel alignment, oil changes, transmission repair, battery replacement, four-point visual inspections, tire replacement, brake repair and replacement, fluid exchange, and more.
You are viewing all posts for categories: service
Make an Inquiry
Service Hours
Monday

7:00 am - 6:00 pm

Tuesday

7:00 am - 6:00 pm

Wednesday

7:00 am - 6:00 pm

Thursday

7:00 am - 6:00 pm

Friday

7:00 am - 6:00 pm

Saturday

8:00 am - 1:00 pm

Sunday

Closed