We'd like to speak with you!
Unfortunately, we can't value this trade as instantly as we planned. We need a little more information before we can provide an accurate appraisal. Don't worry, we're only an email or phone call away!
Your Trade-In Estimate
Good News! We can update your monthly payment amount
Save your vehicle estimate and automatically see how much it will lower your monthly payment!
Is the estimate not what you expected? Send Us a Message
Sorry, this form is temporarily unavailable.
Sending this information to the dealership now will save you time when you get here. We'll have your information on file and you can skip this part of the paperwork!
Your deal summary will also be updated. Make sure you create an account or sign in if you'd like to access it in the future.
Your deal summary will also be updated and accessible any time you sign in to your account.
Don't worry if you change your mind – you can continue to adjust your deal summary at any time.
Where Can I Trade In My Car near Evansville, Indiana?
Welcome to the top trade-in location in Evansville, Indiana. Here at Kenny Kent Chevy, we are all about wheeling and dealing to diversify our selection and keep our regional customers grinning from ear to ear. And in order to make our customers happy, we make the entire trade-in process as smooth as glass. Customers simply show up and ask for an offer on their vehicle. Once it is inspected, we are able to provide a trade-in value that they can use towards their next vehicle purchase.
Customers don't even have to worry about paying off their current car loan. Lenders will usually roll over any balance of the previous auto loan into one consolidated payment plan. This way, you are never at risk of penalty for missed payments or burdened with a double car payment that eats up your funds each month. Most drivers don't know how incredibly easy it is to swap cars and simply drive off in one of our brand-new Chevy trucks.
We also offer top-quality reconditioned vehicles that other customers have traded-in or that were returned to us after a lease. You can trade-in your current ride and drive home in one of these refurbished models on the very same day.
How Much Is My Car Worth?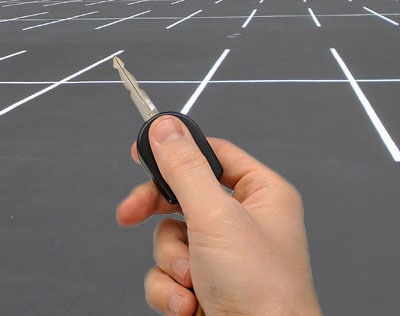 Selling a used vehicle for its actual value can be hard. The classified ads can take up a lot of your time and introduce you to some rather undesirable shoppers. Fraud is rampant in the private car market. Everything from hidden rust to unspecified water damage may be present in a used vehicle.
Nowadays, a lot of people are chasing after huge savings online and even buying cars sight-unseen. All these factors can drive down the market for private sellers and make it hard for you to find a buyer at a fair asking price. Used car buyers may have trouble obtaining an auto loan from a bank and are often falling for deals that are too good to be true.
Therefore, in order to obtain the fairest deals for your used vehicle, we have provided an online estimate tool. The online estimate tool makes it simple for anyone to determine the value of their vehicle in the market today. If you enter specific details regarding the condition of the vehicle, you are more likely to receive an accurate quote that can be matched by our dealership. We are never able to guarantee any quote provided by the online estimate tool, however, until completing an inspection at our dealership.
What Can I Trade My Car in For?
There are no restrictions on the models available for purchase when you trade-in your vehicle. We consider a trade-in vehicle to be the equivalent of cash. This cash or credit can be used towards the purchase of a brand-new vehicle, a certified pre-owned vehicle, or any other used vehicle on our lots.
We have a massive selection of autos that are all thoroughly inspected and reconditioned for sale. This makes it easy for anyone to drive away in a sweet deal without regrets. And because we have such a flexible and fun trade-in program, you can come back at any time and trade in your purchase for another model. Our inventory is constantly flipping over as buys are made and new vehicles come into stock. Don't settle for a vehicle out of desperation, find the ride that suits you the best.