The 2012 Chevrolet Silverado from Kenny Kent Chevrolet is the embodiment of impassioned automotive craftsmanship built to fit the needs of IN Chevrolet aficionados. Kenny Kent Chevrolet is excited to present the 4-door 2012 Chevrolet Silverado Large Pickup Tr. As your Evansville Chevrolet dealer, we hope you find our 2012 Chevrolet Silverado reviews and research materials invaluable in finding the elements, specifications and information you've been on the lookout for. View Kenny Kent Chevrolet's new lineup of 2012 Chevrolet Silverado Large Pickup Trs.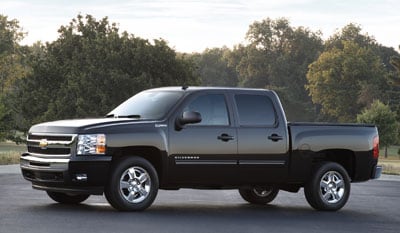 [Dealership Name] presents the 2012 Chevrolet Silverado Large Pickup Tr
Buyers find that when they compare the 2012 Chevrolet Silverado to other makes like the Ford F-150, Toyota Tundra and Dodge Ram, the Chevrolet Silverado stands out as the most fun to drive. Check over our Quick List table below to see why!
The 2012 Chevrolet Silverado has an starting MSRP of $21,235
The 2012 Chevrolet Silverado gets 13 city / 18 highway MPG
The 2012 Chevrolet Silverado goes from 0-60 MPH in 6.9 seconds
The 2012 Chevrolet Silverado features 41.3 inches of legroom up front and 34.3 inches in back
The 2012 Chevrolet Silverado features 41.2 inches of headroom in front and 39.2 inches in back
The 2012 Chevrolet Silverado is 230.2 inches long, 79.9 inches wide and is 73.7 inches tall
The 2012 Chevrolet Silverado weighs 5267 pounds and has a turning radius of 46.9 feet
We know you'll love the Chevrolet Silverado - visit Kenny Kent Chevrolet in Evansville today!
Kenny Kent Chevrolet is proud to present the new 2012 Chevrolet Silverado to Evansville truck drivers! The Silverado's reputation for being one of the most dependable and long-lasting trucks on the road has not faded. Its "Like a Rock" campaign may have ended years ago, but many consumers still hear the old Bob Seger song in their heads when they see the Silverado's broad-shouldered profile. Whether you choose a 2011 Chevy Silverado, a 2010 Chevy Silverado or any previous generation, you will be making a smart investment in a dependable and affordable pickup truck. This year, the 2012 Silverado 1500 is turning heads with a number of distinct design changes and exciting new trim packages. The Silverado is available at a bargain price, with a starting MSRP of $21,235. With several trim levels and body styles, the 2012 Chevrolet Silverado's versatility makes it an attractive option over trucks like the Ford F-150, Toyota Tundra and Dodge Ram. Visit Kenny Kent Chevrolet today and see for yourself why the Silverado is one of the most popular trucks in its class.
The Silverado was a trim on Chevrolet C/K pickup trucks and Suburbans from the seventies through the nineties. When the Silverado branched out on its own it became a huge success, winning several awards during its career. The 2012 Chevrolet Silverado has returned for another year, boasting the same utility, power and dependability as in previous generations. It is available in three body styles: regular cab, extended cab and crew cab; each one comes in several trim levels. You can find the new 2012 Chevrolet Silverado at Kenny Kent Chevrolet in striking colors like Imperial Blue Metallic, Victory Red, White Diamond Tricoat and Summit White. When you visit our Evansville Chevrolet dealership you will also find a wide selection of high-quality used trucks, including the 2011 Chevy Silverado and 2010 Chevy Silverado.
General Motors produced some of the first "muscle" and crew cab trucks. In the 1930s, they were a staple on the ranch. Built on a solid, decades old platform, the Silverado is still one of the most revered trucks in the industry. Whether you need to haul a large trailer or tow a boat, the 2012 Silverado can handle the job. Evansville Chevy truck shoppers will find several engine setups on the 2012 Chevy Silverado 1500. The Work Truck trim is powered by a 195 horsepower 4.3-liter V6 with 260 pound-feet of torque. Next up, the LS trim is equipped with a 4.8-liter V8 that produces 302 horsepower and 305 pound-feet of torque. The Work Truck can also be outfitted with the 4.8-liter V8 or a 315 horsepower 5.3-liter V8 with 335 pound-feet of torque. Depending on the LT trim's body style, it may have either V8 as standard. Lastly, the LTZ comes standard with the 5.3-liter V8. Additionally, a 6.2-liter V8 which generates 403 horsepower and 417 pound-feet of torque is available on select models. Visit Kenny Kent Chevrolet to test drive any one of these powerful trucks today.
If you weren't already feeling like a kid in a candy store, you will now. Believe it or not, the 2012 Chevrolet Silverado has even more trims for Evansville truck drivers to choose from. The Custom Sport Truck Package has returned just in time for its 45th anniversary. It is equipped with a 5.3-liter V8 engine and several luxurious features including: a heavy-duty trailering package, heated power-adjustable mirrors, EZ-Lift locking tailgate, power driver's seat, Bluetooth connectivity, a stereo with USB port and more. The 2012 Chevrolet Silverado Custom Sport Truck Package is available on 1500 extended cabs. It is also available on Silverado 1500 crew cabs in the following states: California, Oklahoma, Louisiana, Florida and Arizona, New Mexico, Arkansas, Kansas, Alabama, Georgia and Mississippi. In addition, a new White Diamond Edition trim has also been added to the 2012 Chevrolet Silverado 1500. This luxurious model includes a distinctive White Diamond Tricoat paint color and unique bodyside moldings, among other features. Across the lineup, Evansville Chevrolet shoppers will find lavish features like cruise control, a trip computer, OnStar telematics, air conditioning and rear audio controls. Contact Kenny Kent Chevrolet today to find out more about each trim's unique set of features.
The 2012 Chevrolet Silverado hybrid is another great option for [Dealership City] truck shoppers. Its 6.0-liter V8, dual 60-kilowatt electric motors and nickel-metal hydride battery pack achieve truly impressive fuel economy. While most full-size trucks only get between 15 - 18 mpgs on average, the Silverado hybrid gets an estimated 20 mpgs in town and 23 mpgs on the highway. This Chevy hybrid truck also impresses when it comes to power. The V8 alone gets 332 horsepower and 367 pound-feet of torque; these numbers are slightly boosted when the electric motors kick in. The Silverado 1500 hybrid is available in two trim levels, 1HY and 2HY, and comes in a crew cab body style. The base trim is equipped with full power accessories, Bluetooth, an auxiliary audio jack, a 40/20/40-split front bench seat and more. The 2HY includes many of these features and adds heated exterior mirrors, rear parking sensors, a navigation system with real-time traffic updates and a Bose audio system.
Whether you're looking for a 2011 Chevrolet Silverado, a pristine 2010 Silverado or any other used Silverado, Kenny Kent Chevrolet has got what you are looking for! As a leading Evansville Chevrolet dealership, we offer a wide selection of new and used Chevy cars, trucks and SUVs. Come in today to browse our inventory!
Owning a Chevrolet Silverado from Kenny Kent Chevrolet makes [Dealership State] driving comfortable, safe and pleasurable - all at the same time! This is why:
[Dealership Name] has a stupendous inventory of 2012 Chevrolet Silverado Large Pickup Trs with standard Chevrolet safety features like anti-lock brakes, traction control, driver airbags, passenger airbags, side airbags and more, making the 2012 Silverado an NHTSA and IIHS favorite. In addition to these safety features, the 2012 Chevrolet Silverado can suitably seat up to 6 passengers. Trunk space with Chevrolet is never a worry; the Silverado can hold up to 60.7 cubic feet of your stuff, ensuring that your next vacation is hassle-free. To top it all off, the 2012 Chevrolet Silverado includes an astounding list of comfort and convenience amenities like powered windows, mirrors, doors and locks, climate control, AC and optional hands-free phone and navigation systems. Take a test drive at Kenny Kent Chevrolet today and experience the Chevrolet Silverado for yourself.
The Chevrolet manufacturer's warranty covers the Silverado for manufacturing defects and has a 3 years / 36,000 miles Chevrolet warranty. Chevrolet has worked for years to minimize its environmental impact; as a result, the Silverado's carbon footprint is minimal. Not surprisingly, with all of the Silverado's advantages, this dependable Chevrolet Large Pickup Tr retains a high percentage of its value at 3 years and 36,000 miles, which makes the Chevrolet Silverado a great used buy! When seeking a safe, stylish and economical Large Pickup Tr, Evansville Chevrolet aficionados should head to Kenny Kent Chevrolet, located at in Evansville, IN
Chevrolet Silverado service information for Evansville
Chevrolet Silverado lessees and owners in Evansville have learned that Kenny Kent Chevrolet at in Evansville is the very best choice for Silverado warranty work, regular maintenance, inspections and mechanical repairs. At Kenny Kent Chevrolet, Certified Chevrolet Technicians trained in the very latest corrective and diagnostic techniques work for one thing - your approval. Whether it's time for your Chevrolet to have an oil change, brake pad replacement, or simply undergo Silverado Scheduled Maintenance, Kenny Kent Chevrolet is your first choice. Our Certified Chevrolet Technicians also complete specialty jobs and repairs. Kenny Kent Chevrolet is the smartest choice in Evansville for swift, accommodating and professional Chevrolet Service of all kinds.
If you'd like to make an appointment to have your Silverado serviced, click the link or just give us a call. Visit us today!