Are You Wondering, Where Can I Find a Chevrolet Transmission Specialist Near Me?
A vehicle is only as good as the cumulative parts. Chevrolet vehicles are all built to withstand the heavy rigors of many hours of travel. Chevy owners take enormous pride in the brand. They know a Chevrolet is built to last.
Wear and tear can still cause long term issues within specific parts for every single vehicle. That's why it's always crucial to monitor your transmission fluids at regular intervals. The transmission is a key part of every Chevy. The transmission allows you to switch from one gear to another in a smooth fashion. Any issues with your transmission could result in a much less fluid transition from one gear to the next. It could also be quite costly on the pocketbook if the transmission issues evolve into a major problem. It's something to always keep an eye on.
Symptoms of Transmission Issues
What are some of the symptoms of a problematic transmission? The first thing you may notice is an inability to smoothly switch gears. This may be true for manual or automatic transmission vehicles. Your vehicle may struggle to switch gears when you accelerate. You may hear unusual or odd noises. Your vehicle might struggle to climb a hill. You may not be able to drive easily in reverse. You may have issues when using your clutch in a manual shift vehicle. Weird smells may also accompany a bad transmission. You might not just be able to put your car in gear.
How Do I Prevent Transmission Issues

There is no definitive way to truly prevent all transmission issues. Wear and tear happens to every vehicle. The best thing you can do is provide maintenance on a regular basis. You can utilize our service team. That's what we are here for.

You might want to check the fluid on your own. You can read the dipstick to see how close you are to full. Your vehicle manual will provide instructions and details concerning the regular intervals at which you should check and change transmission fluids. Our service team can also help you develop a game plan surrounding your Chevrolet transmission. We can diagnose leaks, low levels and other possible symptoms.

We understand a vehicle won't be nearly at capacity without a solid transmission. The continuous monitoring could help prevent long term issues within your transmission. That could keep your potential repair costs down for repairs in the long run. It could also keep you on the road in your car for many more years.
When Should I Seek Help Of Professional Expert?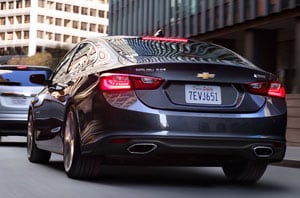 You can lean on the professional expertise at our service department as much as you need. We can help you understand more about the importance of checking your transmission fluid. We can answer any questions you have about specific symptoms. We can provide you with specific knowledge about what to look for. Our team has years of experience working with Chevrolet vehicles. You can depend on us to make sure the transmission is in good condition every time you visit us for a regular tune-up. We take great pride in keeping your Chevrolet on the road. We know your vehicle is important to your entire family. Our goal is to make sure our eyes and ears are in tune with your vehicle.
Service Hours
Monday

7:00 am - 6:00 pm

Tuesday

7:00 am - 6:00 pm

Wednesday

7:00 am - 6:00 pm

Thursday

7:00 am - 6:00 pm

Friday

7:00 am - 6:00 pm

Saturday

8:00 am - 1:00 pm

Sunday

Closed