The best way to prolong the life of your tires is by following the recommended routine maintenance intervals featured in your Chevy's owner's manual. If you service your tires when needed, you can avoid premature wear and having to replace your tires frequently. Regular tire maintenance can also protect you from experiencing tire failure, which is the cause of over 11,000 car accidents a year.
At Kenny Kent Chevy, our team of technicians are certified in tire repair and can keep your wheels running smoothly. We specialize in wheel alignment and tire rotation in Evansville, and can have your car serviced in no time. Just schedule an appointment online.
How Do I Know If My Tires Are Worn?
A simple at-home inspection is all you need to perform to discover if it may be time for new tires. Look for these signs when examining your Chevy car, truck or SUV:
Uneven or Shallow Tread
If you notice substantial tread wear when looking at your tires, you may be in need of a new set. To be sure your tread is low, place a penny in the tread with Lincoln's head pointing down. If the top of his head is still visible, it's definitely time for new tires.
Rocks or Nails
Finding rocks or nails in your tires are sure signs you will require new tires or tire repair in Evansville. These troublesome objects can pierce your tires and cause slow leaks, which can result in tire failure.
Bulges or Cracks
Bulges or cracks in your tires could mean you have an air leak. You should take your car to our service center right away if you encounter either of these issues.
What Causes Tire Damage?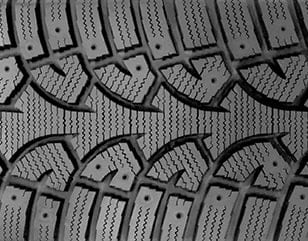 Age
Speeding
Climate - Extremely Hot or Cold Temps
Neglecting Tire Maintenance - e.g., tire rotation and wheel alignment in Evansville
Poor Road Conditions
Wear and Damage
Chevy Tire Shop Near Me
Find yourself in need of new tires? Don't go to places like Discount Tire. Come to Kenny Kent Chevy. We have a collection of tires for sale in Evansville, including Michelin tires, Firestone tires, Bridgestone tires and Goodyear tires.
Our team of experts know exactly what kind of tires are suitable for your Chevy vehicle and we'll be sure to help you find the right ones for your model. Contact us today for more information.