Both new and used Chevy cars each require battery replacement after a few years of ownership. In most cases, car batteries last three to five years, but depending on the climate, you may need to have your battery replaced in less time. This, along with the distance you travel each day, can  greatly affect the life of your battery. Shorter daily trips often equal a shorter battery life due to the fact that your Chevy car battery is unable to  fully charge in under 20 minutes.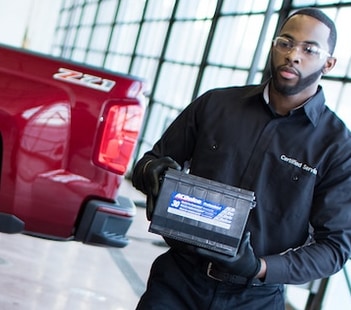 At Kenny Kent Chevy, we can help you with all of your Evansville battery replacement needs. We have a huge inventory of car batteries  for sale from leading brands, including Duralast and Optima. Contact us today and we'll help you find the right battery for your Chevy car, truck or  SUV.
Signs It's Time for a New Car Battery in Evansville
Not sure if it's about time to replace your car battery? Take a look at these leading signs below to determine if your Chevy car battery is just about ready to be replaced.
Low battery fluid
Battery leaks
Bloated battery case
Engine is slow to crank
Dim headlights
Weak sounding horn
These issues are cause for immediate concern and should be assessed by one of our professional service technicians at Kenny Kent Chevy. Schedule an appointment with our team to have your car looked at as  soon as possible.
How to Prolong the Life of Your Car Battery
Protect and preserve your Evansville car battery by having it regularly maintained at Kenny Kent Chevy. These annual routine battery services can prolong the life of your battery and save you from having to spend money on a new battery:
 Battery Diagnostic Test
This allows our service technicians to determine if your car battery is on its last leg. It takes just minutes to do and can be extremely beneficial.
Battery Cable End Inspection
You should have your battery cable ends inspected regularly to ensure no damage is present. If they are worn, you should have them replaced in order to avoid potential battery failure.
For additional inquiries regarding routine battery services and battery replacement, visit us today at Kenny Kent Chevy.