2016 Chevy SS Review from Kenny Kent Chevrolet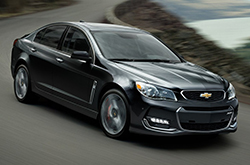 SS captures the spirit of performance without neglecting everyday comfort, a delicate balance that few other cars truly get. The award-winning sports sedan offers an effortless combination of fun and practicality that makes it suitable for everything from taking a simple trip to the grocery store to attending black-tie events, as well as tearing up the track and enjoying thrilling turns on the state's many twisty roadways.
When you have a chance to test out the 2016 Chevy SS in Evansville, Indiana, be sure to check out the car's new styling updates. They're not just there to look good, although they certainly enhance appearance. More importantly, though, they work functionally to aid the car's aerodynamics, so drivers can expect an even more exciting ride.
From the new dual-mode exhaust to added hood vents, 2016 Chevy SS reviews say this year's revisions make the car look and feel more aggressive. The new exhaust strikes a more aggressive engine note at higher revs, while offering improved quietness at low speeds. As for the hood vents, they're not the only new element that boosts aerodynamics. Chevrolet has also integrated new lower air ducts at the outer edges of the front fascia to help direct airflow over the front wheel arches. The sedan's revised fascia design also features a new grille and luminous new LED lighting. Another notable update is the addition of sleek new 19-inch cast-aluminum wheels.
After reading our 2016 Chevy SS review, we hope you can make it to Kenny Kent Chevrolet for an in-person view of the car's updates. Along with this year's list of exciting changes, SS carries over a wonderful group of standard features, including safety and entertainment technologies such as Bluetooth phone/audio, 4G LTE Internet, navigation, satellite radio, lane-departure warning and rear cross-traffic alert.
Every 2016 Chevy SS in Evansville also comes equipped with the same lauded 6.2-liter V-8 as last year, which produces 415 horsepower and 415 pound-feet of torque. The engine can once again be mated with either a six-speed manual transmission or six-speed automatic with manual shifting capability.