2016 Chevy Silverado Research & Reviews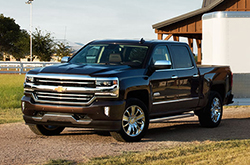 Times are changing and changing fast. Consumer needs fluctuate faster than ever these days, but the Silverado 1500 proves that it can keep up with the pace. Its new redesign not only implements substantial styling updates, but also updates in technology and safety which make smarter systems available to truck buyers.
The 2016 Chevrolet Silverado in Evansville, Indiana, offers intelligent new driver-assist safety systems, the next-generation MyLink infotainment system, and new Apple CarPlay and Android Auto technology for smartphone users. With these features, we can safely say it's the smartest Silverado yet. Plus, we can't forget to mention that the 1500 continues to offer OnStar 4G LTE Wi-Fi, which provides a whole new level of connectivity to drivers.
Along with tech smarts, Silverado is frugal in the fuel economy department. Chevy has broadened the use of its advanced Hydra-Matic 8L90 eight-speed, which works with select EcoTec3 engines to bolster fuel economy and therefore reduce running costs. The eight-speed is now available on both the 5.3L and 6.2L V8, an exciting bit of news for this year's shoppers.
So how has the truck changed in terms of style? Well, it heads in a new direction that 2016 Chevy Silverado reviews praise. Showing off a more defined hood, new lights, added horizontal grille vanes and other highpoints, the 1500 looks more athletic and more contemporary. What's also cool is that the truck offers five different versions of the front end. Styling varies depending on the model you choose, and with several unique looks that'll appeal to a broad range of tastes, the truck offers a more tailor-made, personalized feel.
The 2016 Chevrolet Silverado in Evansville doesn't just look pretty, either. It's fortified with high-strength steel and strategically placed aluminum components. In contrast to the all-aluminum F-150, bodywork is quicker and less expensive with the Silverado due to its durability-tested steel structure and sheet metal.
If you want a truck with a legacy of dependability and the latest high-tech gadgetry, 2016 Chevy Silverado reviews say you can't go wrong with the 1500. Visit Kenny Kent Chevrolet to check it out and learn about current Silverado finance and lease incentives!