2016 Chevy Impala Reviews, Specs & Features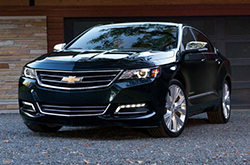 After a critically acclaimed full redesign back in the 2014 model year, Chevy followed up with even more exciting enhancements for subsequent editions of the Impala. Last year, Chevy rocked the boat by offering a new 4G Internet hotspot and this year more headline-stealing updates have been implemented, as well.
To start, buyers and lessees of the 2016 Chevy Impala in Evansville will receive the Wi-Fi hotspot with a free three-month/3GB trial. In addition, wireless smartphone charging and Apple CarPlay are new options this year, providing a more connected and tech-friendly driving experience for Impala owners. With wireless charging, no messy cords are needed to power up smartphone devices, plus a new Active Phone Cooling feature prevents overheating by sending cool, ventilated air into the charging tray. 2016 Chevy Impala reviews are calling this a simple yet incredibly brilliant feature that'll benefit smartphone owners and we think you'll agree, especially since it helps extend the life of mobile batteries.
For iPhone users, CarPlay is a feature to pay attention to. If you drive a 2016 Chevy Impala in Evansville and opt for this new amenity, it'll vastly change the way you interact with your phone while on the road. CarPlay makes it safer and simpler for you to stay connected, offering an easy-to-use touch screen and voice-recognition technology (Siri), which you can use to do things like make calls, compose text messages, play music, view maps and much more.
Aside from tech, 2016 Chevy Impala reviews are also excited about the debut of an optional new Midnight Edition package, which gives the sedan a bold, almost sinister look with blacked-out Chevy logos, a black grille and surround, Jet Black paint, sport pedals and other upgrades. Also, on the subject of color, five new exterior paint hues debut this year, including: Siren Red Tintcoat, Green Envy Metallic, Citron Green Metallic, Mosaic Black Metallic and Heather Gray Metallic.
Visit Kenny Kent Chevrolet to browse our current selection of Impala sedans and learn more about this year's changes!