New 2016 Chevy Camaro Features & Specs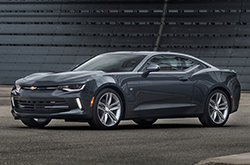 If you desire speed, finesse, stability and innovation, the 2016 Chevy Camaro in Evansville is what you need. Now lighter, stronger and bolder than before, the sixth generation Camaro is completely updated and redesigned to combine the classic sports car's successful past and the best of its seemingly infinite potential into one, flawless performer. Based on three components: style, design and performance, the all-new Camaro offers a premier experience whether on the track or around town.
Equipped with an all-new standard 2.0L turbocharged four-cylinder engine, the new Camaro comes with exceptional fuel efficiency that has not gone unnoticed by 2016 Chevrolet Camaro reviews. It's not just efficient; the standard engine also offers 275 hp and 295 lb-ft of torque that allows 0-60 mph acceleration in less than six seconds. For drivers who desire extra power, a 3.6 L V-6 engine with 335 horsepower and 284 lb-ft of torque capability is available in the Camaro LT. The top level of this year's Camaro lineup, the SS utilizes a 6.2L LT1 V-8 engine to produce an SAE-certified 455 horsepower and 455 pound-feet of torque, performance that 2016 Chevrolet Camaro reviews allude to when stating this year's SS is the most powerful ever. Available with a seven-speed manual shifter or an eight-speed automatic transmission with paddle shifters, all three of the 2016 Camaro's engine options offer phenomenal quality and capability.
Now leaner and slightly smaller, the dramatic Camaro design allows for an aerodynamic drive with enhanced handling and control, whether in the coupe or convertible model. Plus, the redesigned interior includes an all-new Drive Mode Selector, a new center console, an available premium interior spectrum lighting system and a high-definition eight-inch screen that includes the next-generation MyLink system. Despite the new technology, the interior is now simpler and sleeker with fewer buttons, a new electronic parking brake and reorganized controls. Other new additions include more exterior and interior color options, available Brembro brakes, updated comfortable seats and an intuitive Magnetic Ride Control program available on the SS.
A leader in its class, the 2016 Chevrolet Camaro in Evansville offers top-tier style, performance and contemporary features. To learn more about Chevy's iconic performance vehicle, check out more of the information below or test drive a model today.