About Chevrolet Reviews From Kenny Kent Chevrolet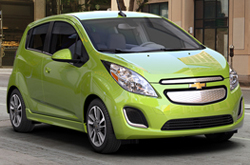 Stop by and check out the 2015 Chevrolet Spark in Evansville. This is a fun little car to own and drive. Far more attractive than its boxy competitors, the Spark manages to provide more room than most while still looking sportier.
The Spark line includes LS and LT models, with LT available in 1LT and 2LT trims. If you really want to stick it to the man, the Spark EV all-electric is another option. Other than the EV model, the Spark is powered by a spunky 84-horsepower four-cylinder. This fuel-sipping engine is economical to operate, and perfect for urban commutes.
2015 Chevrolet Spark reviews will expound upon the commendable safety features if this mighty mite. Ten airbags, combined with crash-avoidance technologies such as StabiliTrak and ABS make this one of the safest mini-cars on the road. It is worth noting that Spark is the only car in its segment to provide the added comfort of a five-year, 100,000-mile powertrain warranty and the safety and security of OnStar.
Research shows that 90% of Spark buyers own smartphones. This is a car for the connected generation. MyLink is standard on the 1LT, 2LT and EV models, and operates by integrating the owner's compatible smartphone and stored media (via Bluetooth, plug-in outlet or USB) with the radio. Working in complement to the technological suite is OnStar with 4G LTE. This provides Spark with a mobile hotspot that is on whenever the vehicle is on.
The Spark looks like a three-door hatch, but don't be fooled. Clever designers integrated the rear door handles into the C-pillar area, giving the car a sporty contour without forgoing the convenience and utility of a five-door. The car seats four adults quite comfortably, with surprising leg and headroom. Fold down the rear seat and you have 31.2 cu. ft. of cargo space.
We think the Spark offers a nice balance of useful high-tech features, a surprisingly roomy interior, safety and economy at a great price. See the 2015 Chevrolet Spark for sale in Evansville at Kenny Kent Chevrolet, or continue reading our 2015 Chevrolet Spark review below.