Evansville Chevrolet Dealer Researches the New Sonic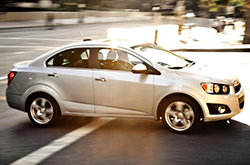 The 2015 Chevy Sonic in Evansville will make you take a second look at the subcompact genre. Aimed at the youth market with a wide array of technological features, the Sonic also provides something of value to parents of teen drivers: peace of mind. The standard safety package on the 2015 Sonic includes 10 airbags, antilock brakes and electronic stability control. The 2015 Chevrolet Sonic sedan and hatchback also offer an advanced safety package that includes Forward Collision Alert and Lane Departure Warning. Chevy notes that this is the first and only car in its class to ever receive a 5-Star Overall Vehicle Score for Safety from the National Highway Traffic Safety Administration.
A lot of thinking went into the interior design. 2015 Chevrolet Sonic reviews talk about the motorcycle-inspired instrument gauge cluster and the dual glovebox, which is really useful for users of a dedicated music player. The USB port is in the upper glove box.
The base 1.8-liter 4-cylinder cranks out good power and fuel economy, but the turbocharged 1.4-liter 4-cylinder not only provides more pep, but also a modest gain in highway fuel economy. The standard powertrain is available with a 5-speed manual transmission, the turbo has a 6-speed manual, but either can be matched with a 6-speed automatic.
On the road, the Sonic is fun to drive. It feels strong and sturdy, and engine and road noises are nicely suppressed. The Sonic's ride is smooth and surprisingly quiet, the electric power steering gives a precise feel, and the suspension is nimble enough to navigate the caprices of city traffic. There is seating for five with 19 cubic feet of cargo space. The rear seats fold down to allow up to 47.7 cubic feet of space. Sonic provides a plenty of room whether you're moving off to college or coming back home with a semester's worth of dirty laundry.
Altogether, this is a pretty awesome little car. See the 2015 Chevrolet Sonic for sale in Evansville at Kenny Kent Chevrolet. Our 2015 Chevrolet Sonic review continues below.�