Read about 2013 Suburban for the Evansville area
Please look below the video to begin reading a full review of the 2013 Chevrolet Suburban. The Chevrolet Suburban reviews are transcribed by experienced vehicle authors. It is just one of many resources we provide as the stellar Chevrolet dealership in Evansville. The following article is bundled with invaluable material- it contains everything so that you can make sensible decisions about the Chevrolet you want to buy. Read on to see if the 2013 Suburban should be parked outside your home.
Update and live inventory of 2013 Chevrolet Suburban in Evansville, Indiana
Overview of the 2013 Chevrolet Suburban in Evansville
Compare the Chevrolet Suburban's Specs & Features
When comparing the 2013 Chevrolet Suburban head-to-head with the 2013 Ford Expedition EL, Dodge Durango, Nissan Armada, Toyota Sequoia and the Buick Enclave, and you'll notice that the Suburban wins over those autos in oodles aspects. Scan just a few of the reasons below.
2013 Chevrolet Suburban Seats: 8 passengers
2013 Chevrolet Suburban MSRP: $43,545
2013 Chevrolet Suburban MPG: 15 city / 21 highway
2013 Chevrolet Suburban Colors: Silver Ice, Black, Blue Ray, etc...
2013 Chevrolet Suburban Cargo Space: 45.8 cubic feet
2013 Chevrolet Suburban Body Style(s): Large SUV
2013 Chevrolet Suburban 0-60 MPH in 7.1 seconds
Evansville Chevrolet Shoppers: Learn About the 2013 Suburban's Features
Engine & Powertrain Specs for the 2013 Suburban
Safety Features & Chevrolet Warranty Facts for Owners
Service Information for Evansville Chevrolet Buyers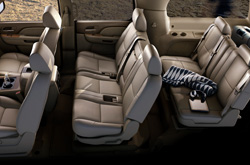 Don't go to a mom and pop auto repair center in Evansville, Indiana when Kenny Kent Chevrolet's amazing repair techs are just a brief commute away; plus you'll get a year warranty on every job and access to authentic OEM products. Don't overlook servicing your Chevrolet. Turn to Kenny Kent Chevrolet's skilled mechanics. We handle a wide array of jobs with without breaking a sweat, including Chevrolet fuel filter replacement, timing belt replacement and, of course, more involved tasks like shock and strut repair - and this is just a portion of what we can take on. When selecting a place to service your Suburban, make a praiseworthy choice and take it to Kenny Kent Chevrolet, where you'll get affordable pricing on Evansville car service and repair. Save money on your next service appointment - click the link below to learn more.