Owning a vehicle is tough work. Not only do you have to keep your car clean and running well, but you need to make sure you bring your car in for regular maintenance checks. One of the most important aspects of car maintenance is an oil change. Many car owners are confused about oil changes, though. After all, how often should a car's oil be changed? Should it be performed on a regular basis? What's the best way to make sure an oil change is done right? If you have questions about your car's oil, here's what you need to know.
How Many Miles Between An Oil Change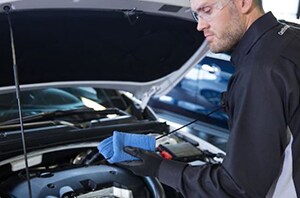 First off, refer to your car's manual as to how frequently your vehicle needs an oil change. Each car is different. While it was once recommended to have an oil change performed every 3,000 miles, many cars now require this service only every 5,000 miles. The most important thing to remember is to have this service performed regularly, as this goes a long way in ensuring that your vehicle is functioning well and that all of your fluids are topped off.
When you're ready to have an oil change performed, our team will help you schedule your appointment. An oil change typically includes a number of services in addition to changing the actual oil. For example, your car will be inspected to ensure that it's running well and that it is working correctly. If our team notices any problems, we'll let you know. Bringing your car in for regular oil checks helps minimize the possibility that you'll develop a problem with your car. Any potential issues will be caught early when you have regular checks performed on your vehicle.
Find Oil Change Service Near Evansville
Are you ready to have your oil changed? It's time to contact us. Read our website to find out what our current hours of operation and appointment times are. You can also call us directly or simply stop by to talk with one of our sales associates. Our team is ready to help answer your questions about your car's maintenance needs, so don't hesitate to reach out and get the help you need today. We'd love to take a look at your car and talk with you about changing your oil.