Chevrolet AC Repair in Evansville, IN
Chevrolet AC repair is not something a novice should undertake themselves, but you can be alert to the symptoms of a AC unit that will help the auto technician at our dealership diagnose your vehicle's problem more quickly. AC issues are some of the most common that we see here at our dealership, and it's no wonder. The AC is an integral part of the vehicle, and during summer months it's going to get healthy usage. And it should! Your AC is your best friend against long, hot, smoldering drives that prove to be uncomfortable. You'll want to make sure that you regularly maintenance and have your AC unit inspected to alert you to any problems that might exist before they get so out of hand that you simply have to replace the unit. With the right maintenance, your AC can run for the lifetime of your vehicle!
Here are just a few of the most commonly asked questions about AC maintenance and repair. You might have additional questions, and we certainly welcome you writing in to ask!
What does my AC do?
This is a complicated question, so here's the short version: Your AC treats the air in your vehicle by removing the moisture and then cooling it so that you can be comfortable while you drive. This might sound like a simple explanation, but it's the "what" of your AC unit.
What are the main parts of the AC system?

A lot can go wrong with any complex unit like this, so it's a good idea to have a general idea of what exactly your unit is composed of. Modern AC units in Chevrolet vehicles are made of a compressor, condenser, orifice tube, evaporator, and accumulator. As with any system, the different components can become damaged over time, especially if there is a leak that corrodes any of these parts. When you get an AC performance check, our certified technicians will examine these parts to make sure that they're all working as they should.
What are common reasons for an AC to begin blowing hot air?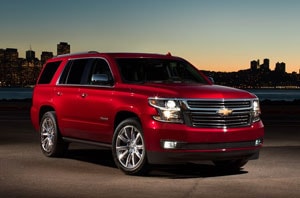 When warm air begins blowing from an AC, drivers often panic, and for good reason. It's hot! And it's uncomfortable. Sometimes it's a simple matter of something blocking the condenser, other times there might have been a leak you didn't notice for a long time that caused internal components to corrode, and still other times there might be a problem with the air cabin filter. Sometimes they just get old and need to be replaced, and it's really that simple.
What is an AC leak?
This is one of the most common problems with an air conditioner unit. Leaks cause a lot of devastation if they go undetected and can even cause entire parts to corrode and stop working. Low pressure is the most common cause of a leak, and when the leak begins you might not even know it. That's why it's so important to bring in your Chevrolet for an inspection by a certified technician if you suspect ANYTHING is wrong with your AC.
Letting an AC problem go is one of the worst mistakes you can make. If you suspect that your AC unit isn't performing up to par or if it has stopped working completely, please call Kenny Kent Chevrolet today to set up a full AC performance check. We'll go through each component of your AC and find out what the problem is FOR you. Don't wait. Call today.
Service Hours
Monday

7:00 am - 6:00 pm

Tuesday

7:00 am - 6:00 pm

Wednesday

7:00 am - 6:00 pm

Thursday

7:00 am - 6:00 pm

Friday

7:00 am - 6:00 pm

Saturday

8:00 am - 1:00 pm

Sunday

Closed