Quality Chevrolet Volt Research From Kenny Kent Chevrolet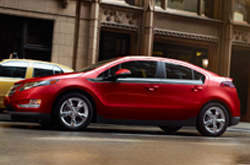 Have you checked out the 2015 Chevrolet Volt in Evansville? If you ever wonder what comes next, this is it. Of course, there are other hybrids and a few all-electric cars out there, but did you know the Chevy Volt has the highest customer satisfaction rate of any car GM has ever built? J.D. Power has awarded the Chevrolet Volt a No. 1 spot on the Sierra Club's list of plug-in hybrids for three years running.
2015 Chevrolet reviews rave that Volt's propulsion system provides up to 380 miles of range. This gives the 2015 Chevy Volt the best all-electric range of any plug-in hybrid, and its gasoline engine offers peace of mind that all-electric vehicles can't match. The electric motor provides the drive, but when the energy in the battery is depleted, a four-cylinder 1.4-liter engine engages and functions as an electrical generator feeding the electric motor. An estimated 80% of trips made by US vehicles would be within the Volt's electric-only range.
When you hear all that, you might imagine a car that looks like a Plexiglas blister, whining along at glacial speeds. The Volt is quite the opposite. This is a handsome sedan. In the 2015 Chevrolet Volt Reviews we've seen, it accelerates briskly, rides, drives and corners well. The electric engine means Volt is very quiet in electric mode. In fact the vehicle is fitted with a driver-activated feature that sounds a noise to alert pedestrians.
The Volt's exterior design is the product of extensive work with aerodynamicists and engineers to develop the most aerodynamic vehicle in Chevy's history. The car's contours are optimized to allow air to move easily over all surfaces, reducing drag and turbulence and increasing efficiency.
The interior has a futuristic aesthetic that is pleasing to the eye and intuitively functional. Technical amenities abound, and crash avoidance and safety feature options mirror those on Chevy's safest cars.
Think about this: some Volt owners report traveling 900 miles between fill-ups. See the 2015 Chevrolet Volt in Evansville at Kenny Kent Chevrolet. You'll be pleased with what your future holds.�