2016 Chevy Volt Review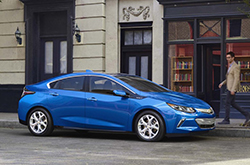 Contemporary, capable and class-leading, the 2016 Chevrolet Volt in Evansville is back with more efficiency, more space and a sportier design. An incredible vehicle that can travel up to 50 miles without using a drop of gasoline, the Volt makes plug-in hybrid ownership easier and better than ever before. From checking the battery to backing out of parking spaces to operating the intuitive instrument panel, you can bet you'll always be satisfied with the standard features that make this year's Volt better than ever. For more information on Chevy's efficient hatchback, continue reading our 2016 Chevrolet Volt review below.
As the vehicle with the best all-electric range of any plug-in hybrid, the Volt can travel upwards of 1,000 miles between fill-ups when the battery is fully charged. Now with a new battery system that provides more efficiency at a lighter weight, the plug-in hybrid will allow for greater efficiency and stronger acceleration. Heading for a longer road trip? The Volt features a 1.5L range extending engine that offers a combined fuel efficiency of 41 mpg. And, with the new redesigned portable cord set, charging when away from home is easier and more convenient than ever. When it comes time to charge at home, your vehicle will intelligently follow preset settings thanks to new GPS location-based charging software. Want to charge immediately or charge only at off-peak rates? All you have to do is program your settings once and the Volt will do as you say whenever it is "home" based on GPS information.
The 2016 Chevrolet Volt in Evansville is more than just efficient. Now with seating for five and a completely redesigned interior and exterior, Volt owners will be satisfied with the extra space and the sleeker image. In addition, drivers will be pleased to know that the safety award-winning Volt now comes standard with a rear-vision camera and an impressive suite of optional safety features. Plus, the Volt is a representation of next-generation vehicles, now, with an impressive eight-inch reconfigurable screen that relays driver information and an additional eight-inch screen that controls the Chevrolet MyLink infotainment software.
Come visit our Chevrolet center in Evansville today and test drive the vehicle that 2016 Chevy Volt reviews acclaim as a plug-in hybrid segment leader for this year.