2016 Chevy Spark Research & Reviews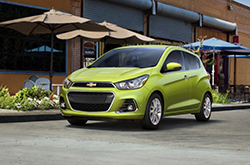 Redesigned and re-engineered to provide more performance and style, the 2016 Chevrolet Spark in Evansville is a premier mini-car choice. Not only is the eco-friendly hatchback incredibly efficient, but, it also employs the most up-to-date safety features, connective technology and a new engine to provide drivers with an unmatched experience. For more information about the features and specifications, continue reading our 2016 Chevrolet Spark review below or stop by for a test drive today.
The 2016 Spark is a strong contender in the mini-car market today. Not only does it boast an estimated 40 mpg on the highway, but it also does so with a capable 1.4L four-cylinder engine that is 16 percent more powerful than the 2015 model. With an engine that offers upwards of 98 horsepower and an optional manual or continuously variable transmission system, the 2016 Spark offers a smooth, quiet ride that drivers will love. The mechanical agility is further met by a redesigned athletic appearance. Now lower and wider, the 2016 Spark will not disappoint with its contemporary styling and impressive spacious interior. In fact, the lower design only means more space in this year's model as the Chevy designers rearranged the interior to provide extra accessibility and capacity.
The 2016 Chevrolet Spark in Evansville is not just efficient and stylish, it is also extremely capable. Now equipped with an all-new MyLink radio system that features a capacitive-touch display, drivers can swipe, pinch and scroll for easy use. Additionally, the Spark is available with OnStar and built-in Wi-Fi features to make each ride more connective than ever. It doesn't stop there though, the 2016 Chevy Spark in Evansville includes a host of standard and available safety features to make each drive a worry-free experience. Whether you are interested in ten standard air bags and an available rollover sensing system, or you desire extra preventative features like a forward collision alert system and lane departure warnings, you will surely feel extra secure in the 2016 Spark.
The 2016 Spark is an innovative, efficient and practical choice that puts joy back into driving, regardless of the destination. For more information, check out the additional information below this 2016 Chevrolet Spark review or contact our Chevy dealership today.