2016 Chevy Malibu Review - Evansville New Sedans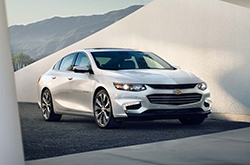 If it is style, comfort, safety and efficiency you seek, the all-new 2016 Chevrolet Malibu in Evansville is exactly what you'll find. Now restyled with a contemporary feel, the Malibu includes segment-exclusive features and options that promise an unparalleled experience in the midsize sedan class. For more information on the cutting-edge sedan from Chevy, continue reading our 2016 Chevrolet Malibu review below.
One of the most valuable additions to the Malibu is the introduction of a hybrid model. Projected to deliver a combined fuel economy of more than 45 mpg, the hybrid powertrain will combine a 1.8L four-cylinder engine and an 80-cell lithium-ion battery pack to provide an efficient and comfortable ride. While the hybrid option is an incredible choice, drivers who opt for the standard unit will not miss out on efficiency and power. With a 1.5L turbo engine that produces 160 horsepower, 184 lb-ft of torque and combines with a six-speed automatic transmission, Malibu riders will boast of an in-city efficiency of 27 mpg. Drivers who desire a little more power than the base model can also invest in the 2.0L turbocharged engine that offers 250 horsepower, 258 lb-ft of torque and an eight-speed automatic transmission in the 2.0T.
In addition to exceptional power, the 2016 Chevy Malibu in Evansville also incorporates the most up-to-date safety and entertainment features. With an exclusive teen driver program standard on most trims that allows parents to monitor driving speeds and active safety features, the Malibu is a premier option for families with rookie drivers. Additional safety features include a variety of available programs like a rear-view camera system, forward collision alert technology, front and rear park assist and lane keeping software. The technology doesn't just stop with safety, though. The all-new Malibu includes OnStar 4G LTE Wi-Fi capability on all models, a seven-inch touch screen standard on LS trims and an available innovative wireless phone charging system.
Sitting 2.3 inches longer and 300-pounds lighter, the redesigned Malibu is bolder, stronger and more agile than ever before. For more information on what 2016 Chevrolet Malibu reviews call "a top pick among midsize family sedans," continue reading our information below or come test a 2016 Chevrolet Malibu in Evansville today.