Specs & Features for 2016 Chevy Cruze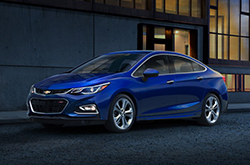 Chevy's kicked its best-selling car - the inimitable Cruze - into high gear with a full redesign that builds on its strengths and delivers more of what consumers want out of a compact car. Engineers have packed more "premium" into its compact package with a broad spectrum of changes that provide greater luxury, comfort and connectivity for passengers.
The 2016 Chevy Cruze in Evansville comes outfitted with higher quality materials throughout the cabin and luxury accents like animal-grained, micro-etched surfacing and French stitching, which offers an eye-catching contrast against premium upholstery. Cabin space is enhanced, resulting from the use of a longer wheelbase, and several components in the cockpit area have been repositioned and redesigned to provide both a grander look (to match the car's more expressive exterior) and more intuitive placing. To find out how the car compares to its competitors in terms of cabin space and other factors, please see the Dare to Compare feature at the bottom of our 2016 Chevy Cruze review.
Along with heightened refinement and interior volume, Cruze makes big strides in the field of technology. It continues to offer built-in OnStar-powered 4G LTE Wi-Fi, plus adds the latest generation MyLink infotainment system and an extended list of safety features. The number of driver-assist technologies featured on the 2016 Chevy Cruze in Evansville has grown, now encompassing Side Blind Zone Alert, Rear Cross-Traffic Alert, Forward Collision Alert and Lane Keep Assist, technologies that utilize smart, dependable radar sensors to detect potential collisions before they happen.
MyLink offers enhanced performance abilities this year, as well as new Apple CarPlay and Android Audio compatibility, which gives smartphone users a safer means of using their phones on the road. With the assistance of Siri or the easy-to-use touch screen, drivers can perform a wide range of functions, from making calls and composing text messages to accessing smartphone applications, such as Stitcher and iHeartRadio for example.
Our 2016 Chevy Cruze review wouldn't be complete without mentioning the all-new turbocharged EcoTec four-cylinder, either. With the new engine, owners will get enhanced efficiency - up to 40 mpg highway according to estimates from General Motors. The four-cylinder is offered with either a six-speed manual gearbox or optional six-speed automatic transmission.