Prominent Specs for the Chevrolet Volt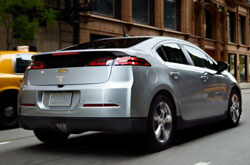 Compare Chevrolet's newest model of the Volt to its rivals and we're certain that you'll choose it over vehicles like the 2014 Nissan Leaf, Toyota Prius, Ford Focus Electric and the Hyundai Sonata Hybrid. The Volt's tasteful looks, user-friendly onboard technologies and low sticker price are sure to win over IN shoppers. When compared to the aforestated list of vehicles, in terms of price it's clearly a spectacular value, making it a top choice among Chevrolet customers in Evansville. See our bullets for more details about its vehicle specs!
2014 Chevrolet Volt Body Style(s): Compact Sedan
2014 Chevrolet Volt MSRP: $39,145
2014 Chevrolet Volt Seats: 4 passengers
2014 Chevrolet Volt Doors: 4-door
2014 Chevrolet Volt MPG: 24 city / 36 highway
2014 Chevrolet Volt Cargo Space: 10.6 cubic feet
2014 Chevrolet Volt 0-60 MPH in 8.53 seconds
2014 Chevrolet Volt Colors: Summit White, Black, Viridian Joule, etc...