Evansville Dealer Researching the New Volt Volt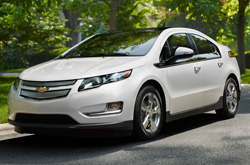 Scroll past the 2013 Chevrolet Volt review video below to start reading about the new Volt. As the top-rated Chevrolet franchise in Evansville it is our mission to furnish our customers with Chevrolet reviews transcribed by the finest Chevrolet writers in the world. Make intelligent decisions when it comes to your next auto purchase, don't take guesses! Each article is crammed with material and vehicle features in way that's easy to understand. Kenny Kent Chevrolet is always available 7 days a week to answer questions you have. Do not hesitate to call us to speak with our Volt specialists.
2013 Chevrolet Volt Features Video
Volt MPG, 0-60 Speed & More
When comparing the 2013 Chevrolet Volt next to the 2013 Hyundai Sonata Hybrid, Ford Focus Electric, Nissan Leaf and the Toyota Prius, and you'll realize that the Volt scores higher those autos in oodles aspects. Look over just a few of the reasons below.
2013 Chevrolet Volt MPG: 24 city / 36 highway
2013 Chevrolet Volt Seats: 4 passengers
2013 Chevrolet Volt MSRP: $39,145
2013 Chevrolet Volt 0-60 MPH in 8.53 seconds
2013 Chevrolet Volt Cargo Space: 10.6 cubic feet
2013 Chevrolet Volt Body Style(s): Compact Sedan
2013 Chevrolet Volt Colors: Viridian Joule, Summit White, Black, etc...
Features, Trims & Other 2013 Chevrolet Volt Highlights
Chevrolet Volt Service Info for Evansville, Indiana
To find wonderful Chevrolet repair techs and reliable factory-made parts, Evansville Volt owners need not roam far. Go to a centralized site close to most any place, and benefit from the sense of bliss that comes with receiving tried-and-true repairs and a extensive warranty on every repair. Kenny Kent Chevrolet's masterly mechanics will keep your Volt in robust shape. We handle heavy, trying repairs like engine repair, as well as straightforward operations such as common multi-point inspections, tire replacement and a diverse set of additional services. For both challenging and straightforward services, our Evansville car repair center covers everything; moreover Kenny Kent Chevrolet offers cheap maintenance pricing. You can find coupons any time at the following link.