Read about 2013 Tahoe for the Evansville area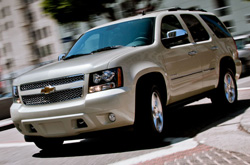 Go ahead and scroll down below the video to begin learning more about the latest version of the Chevrolet Tahoe. As the premier Chevrolet dealership in Evansville it is our obligation to equip our customers with Chevrolet reviews transcribed by the most outstanding Chevrolet writers in the world. As you read this article, you'll see that it is stuffed with invaluable material on all of the things you'r looking for in the new Tahoe. Good luck in your search!
Take a Video Tour of the 2013 Chevrolet Tahoe
Is the Chevrolet Right for You?
Comparing the 2013 Chevrolet Tahoe against against vehicles like the 2013 GMC Yukon, Ford Flex, Toyota Sequoia, Buick Enclave, Jeep Grand Cherokee and the Dodge Durango, and you will catch that the 2013 Tahoe wins over the competition in loads areas. Look through our bullets to see why!
2013 Chevrolet Tahoe Cargo Space: 16.9 cubic feet
2013 Chevrolet Tahoe Body Style(s): Large SUV
2013 Chevrolet Tahoe 0-60 MPH in 6.7 seconds
2013 Chevrolet Tahoe Colors: Black, Mocha Steel, Silver Ice, etc...
2013 Chevrolet Tahoe MSRP: $39,080
2013 Chevrolet Tahoe MPG: 15 city / 21 highway
2013 Chevrolet Tahoe Seats: 8 passengers
Trims & Features on the New 2013 Chevrolet Tahoe
2013 Chevrolet Tahoe Safety Features & Warranty
About Kenny Kent Chevrolet's Service & Auto Repair Facility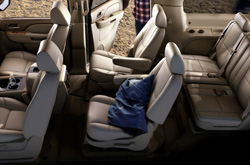 You won't get Chevrolet trained service techs, a long warranty on service and actual Chevrolet parts at a megacorp auto facility in Evansville, so visit Kenny Kent Chevrolet instead. If you pay no attention to getting trustworthy repair work, your Chevrolet Tahoe's condition might shatter, so get it to the masterly mechanics at Kenny Kent Chevrolet. We handle a multitude of jobs with ease, including Chevrolet fuel filter replacement, tire switch outs and, of course, demanding tasks like shock and strut repair - and this is just a tiny percent of what we can take on. When choosing a reputable place to service your Tahoe, make a positive choice and get it to Kenny Kent Chevrolet, where you'll get low-cost pricing on Evansville car service and repair. Check out the link below to see how much money you can save on your next service appointment.