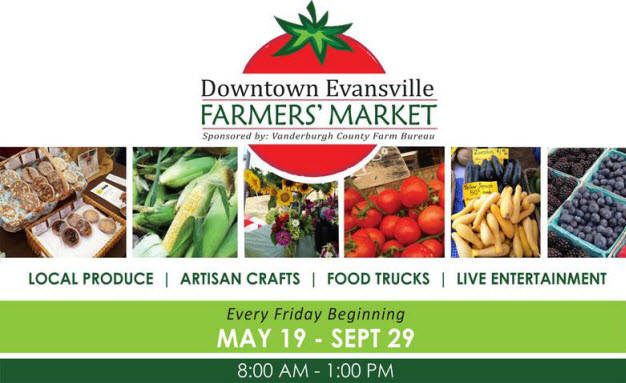 Every Friday from now until September 29, 2017, residents from throughout Evansville will be able to shop for local goods at the Downtown Evansville Farmers' Market. Featuring everything from homegrown produce to homemade crafts, there's plenty of fantastic items for sale at this first-class market.
If you've never been to the Downtown Evansville Farmers' Market, we urge you to stop by during its run this summer. For 2017, the market is located at the corner of 3rd, 4th and Bond Streets, just across the Lloyd Expressway. Open on Fridays from 8 a.m. – 1 p.m., shoppers will be able to purchase a grand selection of locally-grown products and crafts, including produce, baked goods, homemade sauces, soaps, dog treats, cheeses and art. Fresh flowers and arrangements will also be available for purchase – perfect for a table centerpiece!
In addition to offering a variety of items for sale, the market will feature food trucks, live entertainment, health screenings, educational presentations and kids' activities. You can also participate in fun games for the chance to win exceptional prizes.
For further information about the Downtown Evansville Farmers' Market, please visit the official website. Here, you can find a variety of details, including directions via Google Maps.