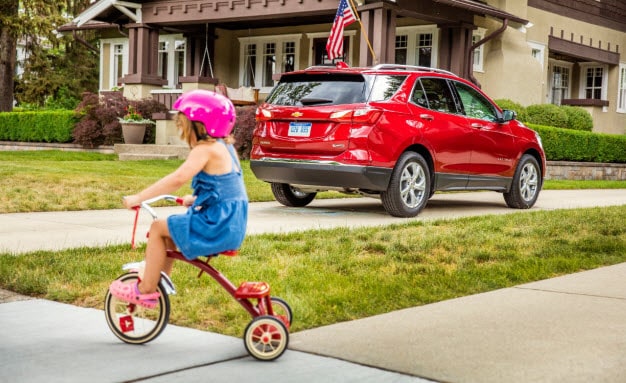 The summer season is in session, and with the warmer weather comes an increase in kids playing outside around the neighborhood. This means it's extra important for drivers cruising in their new Chevy to keep an eye out for the little ones, and to help with this, Chevy is offering a brand-new safety feature in the 2018 Equinox.
Now on sale at Kenny Kent Chevrolet, the Equinox, Chevy's premier midsize crossover, is able to better protect children from being involved in backover accidents due to its available Surround Vision safety technology. The system works by utilizing a camera in the front grille and two side-looking cameras under each mirror to provide a 360-degree birds-eye view around the car. This technology activates when drivers shift into reverse, allowing them to more safely pull their car out of the driveway or a parking space.
"I have a family and think of them often when doing my research. My wife is a driver and my three young children are passengers in our vehicles. They're also the little ones playing in our front yard, running around having fun," says Rondell Burge, researcher of driver and behavior, Chevrolet. "Technology offered on the Equinox, like Surround Vision, is designed to give drivers more tools to help them see around their vehicle before they put it in gear."
In addition to the 2018 Chevy Equinox, the incoming 2018 Chevy Bolt EV and 2018 Chevy Traverse are also set to offer Surround Vision. You can find the Traverse and Bolt at Kenny Kent Chevy later this year.